Tour de France
Rating:
Published: July 12, 2011
1,844 views
Update: Cadel Evans, after seven attempts, became the 2011 Tour de France champion. He became the first Australian to win the Tour de France. He was the runner-up in 2007 and 2008. Evans completed the ride in a time two and a half minutes faster than Andy Schleck. At 34, Evans is the oldest Tour winner since Henri Pélissier in 1923.
The Tour de France first took place in 1903 and this year there will be almost 200 cyclists. The 2011 Tour de France will run Saturday, July 2nd to Sunday, July 24th 2011. This 98th Tour de France will be made up of 21 stages and will cover a total distance of 3,430.5 kilometers.
Tour de France stages in 2011 have the following profiles:
• 10 flat stages,
• 6 mountain stages and 4 summit finishes,
• 3 medium mountain stages,
• 1 individual time-trial stage (42.5 km).
• 1 team time-trial stage (23 km).
Distinctive aspects of the Tour de France route are:
• le Galibier climbed twice,
• 2 rest days,
• 23 level 2, 1 or highest level mountain passes or summit finishes,
• no bonuses will be awarded during the intermediate sprints and stage finishes.
| | | | |
| --- | --- | --- | --- |
| Stage | Date | Day's route (towns, regions) | Length in Km. |
| 1st Stage | Sat, July 2 | Passage du Gois – Mont des Alouettes (Vendée) | 180 km |
| 2nd Stage | Sun, July 3 | Les Essarts – team trials | 23 km |
| 3rd Stage | Mon, July 4 | Olonne-sur-Mer (Vendée) – Redon (Brittany) | .198 km |
| 4th Stage | Tue, July 5 | Lorient – Mur de Bretagne (Brittany) | 172 km. |
| 5th Stage | Wed, July 6 | Carhaix – Cap Fréhel (Brittany) | .158 km |
| 6th Stage | Thu, July 7 | Dinan (Brittany) – Lisieux | 226 km. |
| 7th Stage | Fri, July 8 | Le Mans (Pays de la Loire – Chateauroux (Centre) | 215 km. |
| 8th Stage | Sat, July 9 | Aigurande (Centre) – Super-Besse / Sancy (Auvergne) | 190 km. |
| 9th Stage | Sun, July 10 | Issoire – St. Flour (Auvergne) | 208 km. |
| Rest Day | Mon, July 11 | Le Lioran (Cantal, Auvergne) | none |
| 10th Stage | Tue, July 12 | Aurillac (Auvergne) – Carmaux (Midi-Pyrénées) | 161 km. |
| 11th Stage | Wed, July 13 | Blaye les Mines – Lavaur (Midi-Pyrénées) | .168 km |
| 12th Stage | Thu, July 14 | Cugnaux – Luz-Ardiden | 209km. |
| 13th Stage | Fri, July 15 | Pau – Lourdes | 156 km. |
| 14th Stage | Sat, July 16 | Saint-Gaudens – Plateau de Beille (Midi-Pyrénées) | 168 km. |
| 15th Stage | Sun, July 17 | Limoux – Montpellier | 187 km. |
| Rest day | Mon, July 18 | | none |
| 16th Stage | Tue, July 19 | Saint-Paul-Trois-Châteaux (Rhone Alpes) – Gap | 163 km. |
| 17th Stage | Wed, July 20 | Gap (Alpes-Provence) – Pinerolo (Italy) | 179 km. |
| 18th Stage | Thu, July 21 | Pinerolo – Col du Galibier / Serre Chevalier (Alpes-Provence) | 189 km |
| 19th Stage | Fri, July 22 | Modane – Alpe d'Huez (Rhone Alpes) | 109 km |
| 20th Stage | Sat, July 23 | Grenoble – Grenoble (Rhone Alpes) time trials | 41 km. |
| 21st Stage | Sun, July 24 | Creteil – Paris (Ile de France) | 160 km. |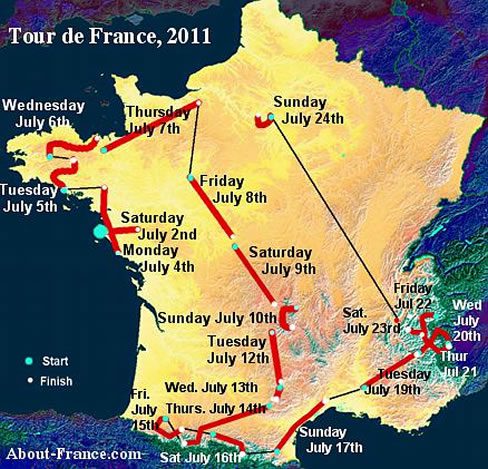 Photo courtesy of About-France.com