Road Bikes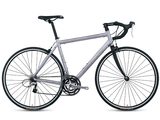 Road bikes are designed for riding on paved streets and going fast. They tend to be used for transportation, whether it be around town or a college campus. Road bikes are also commonly seen as forms of recreation. One reason they've become so popular is the rising energy crisis. Road bikes offer a cheap, easy way to get around relatively short distances, as well as a ride that can be as relaxing or as exhilarating as the rider desires. Many road bikes are designed with young people in mind so that they can be easily maintained and operated. Some people use bikes as an alternative to treadmills, running machines, or other exercise equipment.
Road bikes usually fall into three categories. They are:
Touring Bikes – This type of bike is designed to provide comfort for long distance road and trail rides. The drop down handlebars provide comfort, good control and multiple hand positions. Twenty one speeds should help you to handle any incline that you encounter and cantilever can handle heavy load braking.
Sport Bikes – This type of road bike falls between touring and racing bikes. Although I usually think of a "hybrid" as a cross between Road and Mountain bikes, this bike can be considered a hybrid road bike. A sport bike is not as light as a racing bike but is more responsive than a touring bike. The sport bike also has drop down handlebars for comfort and control and the aerodynamic design allows for faster speeds. If you are into rides of 10 miles or more and want a little more intensity and speed, this would be a great choice.
Racing Bikes – These bikes are built for speed. They are ultra light, aerodynamic and have the thinnest tires. A short wheel base allows the bike to respond to the slightest movements and the typical 12 to 18 gears will get you to top speed quickly and keep you there
There are lots of different models of road bikes, some casual campus cruisers, some professional grade rocket machines, but all road bikes are designed to allow the rider to propel himself without using any fuel but the muscles on his body. Many modern bikes can easily reach speeds of over twenty or thirty miles an hour on a declining slope. Some are also used for professional racing around the world.
A road bike typically has skinny, smooth high pressure tires that minimize contact with the road to provide the least rolling resistance possible. As these types of tires allow you to feel each bump and pebble in the road, it's not necessarily the most comfortable ride, but that's not the intent. The riding position puts you bent over the handlebars. This reduces the profile and cuts down on wind resistance, along with putting riders in a position to drive maximum power from their legs and hips through the pedals.
Road bikes have a wide range of gearing, with low gears that allow a rider to more easily climb steep hills up through rather high gear choices that a rider uses to go really fast. Typically a road bike will have either two or three chain rings as part of the crank assembly in the front along with eight or nine gears in the cassette on the rear wheel. This combination allows for anywhere from 16 to 27 possible gear combinations, a broader range than yesterday's typical ten-speed afforded.
Basic road bikes may come equipped with platform pedals. If this is the case, toe clips are usually a standard accompaniment, or may be added quite cheaply. However, clipless pedals are frequently/usually used on road bikes, which allow the rider to clip his or her cleated shoes to the pedals, providing the ability to drive the pedals through the full rotation of the circle, pulling up on the pedals during the upstroke as well as pushing them down.
The lightweight frames of most road bikes are not particularly beefy in construction and generally won't stand up well for extended periods under heavy loads or on really rough surfaces. Types of bike frames include:
Alloy Frames
Bike frames took another step forward when the use of alloy tubes became possible. This made frames a lot lighter than the previous steel frames. If you don´t want to spend $1400 on a bike, an alloy frame combined with a carbon fork, chain and seat are very popular combinations among bike buyers.
Titanium Frames
The next step up in bike frames is the titanium frame. Bikes made with a titanium frame are almost weightless and offer a great, tight ride. Titanium, along with carbon bike frames, are much more expensive but these frame materials can last almost forever. These top of the line bikes mix a titanium frame with carbon seat and fork. This combination makes for maximum comfort and handling while preserving safety.
Road Bike Frame Sizes
Once you settle on the material and manufacturer of your bike frame, the next most important thing to consider is the size of the frame you buy. If the size is not right, your ride will not be comfortable and could even be dangerous. Once you find the right road bike frame size, the rest of the bike should fit perfectly, with minor adjustments to the seat height as described.
Determining Your Road Bike Frame Size
Your Height
Inseam Length
Bike Frame Size
4'10" – 5'1″
25.5" – 27"
46 – 48 cm
5'0″ – 5'3″
26.5″ – 28″
48 – 50 cm
5'2″ – 5'5″
27.5″ – 29″
50 – 52 cm
5'4″ – 5'7″
28.5″ – 30″
52 – 54 cm
5'6″ – 5'9″
29.5″ – 31″
54 – 56 cm
5'8″ – 5'11"
30.5″ – 32″
56 – 58 cm
5'10" – 6'1″
31.5″ – 33″
58 – 60 cm
6'0″ – 6'3″
32.5″ – 34″
60 – 62 cm
6'2″ – 6'5″
34.5″ – 36″
62 – 64 cm
Popular road bike brands include Schwinn, Cannondale, Huffy, K2, Mongoose, Scattante, Columbia, Kent, Electra, Nirve, Nashbar, Trek, Giant, Gary Fisher, Specialized, and Diamondback.