Hybrid Bicycles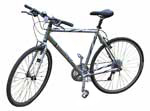 Bicycle riding is both a hobby and a sport. It's important that you choose the right bike. Good hybrid bikes combine two important features: light weight and sturdiness. They are manufactured with all the best essentials of both the mountain bike and the road (touring) bicycle.
Hybrids are an ideal bicycle for riding at high speeds on asphalt streets and tackling some rugged off-road trails, gravel, dirt streets, and other surfaces. Hybrids are not advisable if being used for riding over mountain tracks or extreme off-road paths. They are dependable if you ride on dirt roads and gravel roads.
Most hybrid bike frames are made of lightweight aluminum or steel although higher-priced titanium or carbon frames that combine stiffness with light weight, are also available. While steel frames make for a heavier bike, it's one of the most durable materials used for bike frames and the easiest to repair. Steel is also relatively flexible which makes for a more comfortable ride. Hybrids generally have a triangular frame, the mixed (or swan-neck) frames that are also available can be more suitable for smaller cyclists, older riders who have a harder time getting on a bike, or women who usually wear dresses or skirts when cycling.
Hybrid vs Comfort Bike
While both bike styles allow riders to sit up straight, rather than leaning forward like a road bike, hybrids are more popular. An important factor is that hybrid bicycles have a skinnier tire and a bigger wheel, so the bike will go faster without as much effort. Also, Hybrids are generally lighter than comfort bikes.
Features Compared to Mountain Bikes
slightly wider tires for better traction and stability
a more upright frame, offering a more comfortable riding position
a stouter frame that can handle more weight and potholes and road bumps
A hybrid's wheels are wider than that of a road bike, providing better stability. Wheel diameters are 700c – close to 27 inches – which is the same diameter used on road racing bikes.
The tires used on a hybrid bicycle are wider than those used on road bikes, but narrower than mountain bike tires. The suggested tire air pressure puts a hybrid bicycle in the same level as a road bike when it comes to inflation level. The advantage of this type of wheel and tire combination is that when riding on paved roads there is less rolling resistance making the bike easier to pedal and more efficient by reducing rolling resistance.
Tires are wide enough and have ample tread for riding on dirt roads and on smooth hard pack trails but the bikes are not suitable for soft conditions such as sand or mud.
Features Compared to Road Bikes
lighter components and taller gearing for going faster
lighter rims for faster riding
A hybrid's gearing is more similar to a road bike. They come with seven or eight speed drivetrain gearing, which is ideal for neighborhood jaunts, or 16 all the way up to 27 possible gear combinations which is helpful when carrying gear or traveling up hills. Hybrid bicycles have either two or three chain rings in the front as part of the crank assembly.
An upright seating position and cushy saddle reduces strain on the rider's neck and back. Hybrids have a well-placed center of gravity. Adjustable rise stems and mudguards also come included.
The handlebars on a hybrid are typically flat like a mountain bike, and go straight out from the stem. They also have a wider grip, allowing riders to sit upright and offer a better position for vision and control.
Basic hybrid bikes come equipped with platform pedals. Advanced riders may prefer toe clip or even clipless pedals that allow the rider to secure his or her cleated shoes to the pedals.
While wearing a helmet is not compulsory in most jurisdictions, at least for adults, it's highly recommended for increased head protection. Today's bike helmets are light weight and well ventilated. Other important bicycle accessories include a small frame pump, tire levers or irons, and a patch kit and/or innertube for fixing flat tires. This equipment can be carried in a small underseat bag. Additional bike accessories include a chain tool and assorted wrenches. Compact tool kits available will have these and fit under the seat. A water bottle and cage or a hydration pack may be neccessary to avoid dehydration. Riding gloves can also be worthwhile to prevent blistered hands. It's also a good idea to carry a first aid kit.
Determining Proper Frame Size
An ideal goal is to purchase a bike with adequate clearance over the top tube when standing over the bike. A cyclist who rides primarily on the road needs only 1″ to 2″ of clearance. If riding primarily off-road, it should be size down to 2″ to 3″ of clearance.
To determine the correct saddle height, a cyclist should sit on the bike holding one leg straight, directly in line with the vertical bar of the frame, heel resting on the pedal at its lowest position.
Hybrids hit the market in the 1990s. Popular bicycle brands include Nashbar, Cannondale, Schwinn, K2, Mongoose, GT, Dahon, Electra, Marin, Novara, Scattante, Columbia, Nirve, Kent, Mongoose, Trek, Giant, Diamondback, Gary Fisher, and Huffy.