Mountain Bikes
Klunkerz: Mountain Bike History, The definitive documentary on the birth of the modern mountain bike.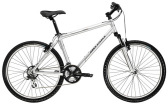 Mountain bikes or ATBs (all-terrain bikes) are designed for off road riding and are great for use on paved and crushed stone trails, hills, and ravines.  They are also popular for use on roads. Mountain Biking is one of the fastest growing sports in the world and mountain biking enthusiasts are found all over the globe. Mountain biking is considered a fun, healthy and rewarding pastime or hobby.
Mountain bikes have wide tires, a "flat" handlebar, and direct-pull or disc brakes. Frames are often built of aluminum so they are lightweight and stiff, making them efficient to ride. The fork has a suspension or shock-absorbing feature to reduce hand/arm fatigue.
Some riders, especially experienced ones, outfit their own bikes, adding suspension forks, changing chainstays, and taking off their seats, which is often not needed, as riders spend most of their time standing up on the pedals.
One of the more important considerations when choosing a mountain bike is the type of suspension best for your needs. There are rigid mountain bikes which have no suspension, hard tail mountain bikes which have front suspension but no rear suspension and full suspension models.
Mountain bike wheels are built with stronger rims than on recreational bikes and the component selection (cranks, derailleurs, etc.) are more durable. Most mountain bikes have 26-inch wheels, although 29-inchers are now becoming popular.
Mountain bikes can be divided into categories according to the terrain they are used on. There are basically eight categories of mountain bikes: cross country, all mountain, freeride, downhill, trials, dirt jumping, single-speed, and mountain cross. Cross country mountain bikes are the basic model from which most of the other originated. They are light weight, have little to no suspension, and are best for uphill or flat terrain. Trial mountain bikes are similar, except that they are used mostly in dirty trail competitions, rather than for day-to-day riding. Downhill and dirt jumping mountain bikes are geared to specific terrains. They are usually very strong bikes with excellent suspension, fast-rolling, and extremely durable.
The newest models to hit the market include all-mountain bikes, freeride, and single speed. These mountain bikes are designed for a specific purpose, and require superior skill and physical . All-mountain bikes, for example, tend to be heavier than other models, and are used by riders who want to combine uphill and downhill riding with advanced suspension technology.
Mountain bikes range in price from a few hundred dollars for a basic model to a few thousand for a professional version to be used in competitions. Mass-produced mountain bikes are widely available, and are usually enough for the occasional weekend rider.
Mountain Bikes – Finding the Right Size
Your Height
Your Inseam Length
Bike Frame Size
4'11" – 5'3″
25" – 27"
13 – 15 inches
5'3″ – 5'7″
27″ – 29″
15 to 17 inches
5'7″ – 5'11"
29″ – 31″
17 to 19 inches
5'11" – 6'2″
31″ – 33″
19 to 21 inches
6'2″ – 6'4″
33″ – 35″
21 to 23 inches
6'4″ and up
35″ and up
23 inches and up
Popular mountain bike brands include Cannondale, Trek, Schwinn, Specialized, Giant, Rocky Mountain, Santa Cruz, Knoa, GT, and Mongoose.